Agnes Montgomery Shaddock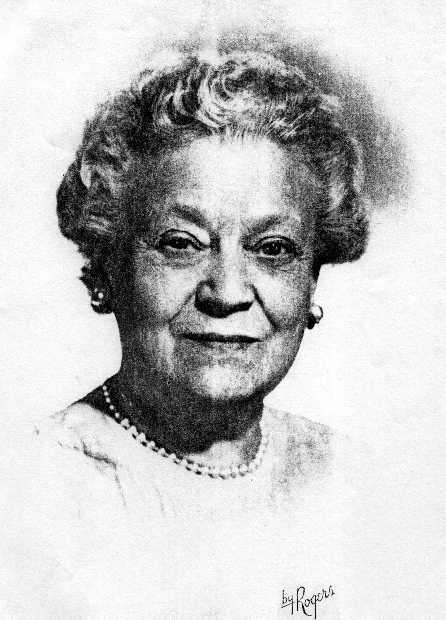 Her husband, Dr. Frederick James Shaddock
Her daughter, Helen
Her son, Warren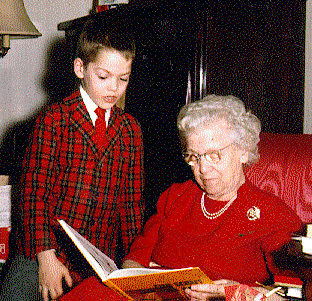 Known as "Nana" by her grandsons, here Frederick III
Bob
Rick
Dave
---
Mrs. Agnes Shaddock Dies at 80
Active in State Garden Club
Abraham Lincoln Kin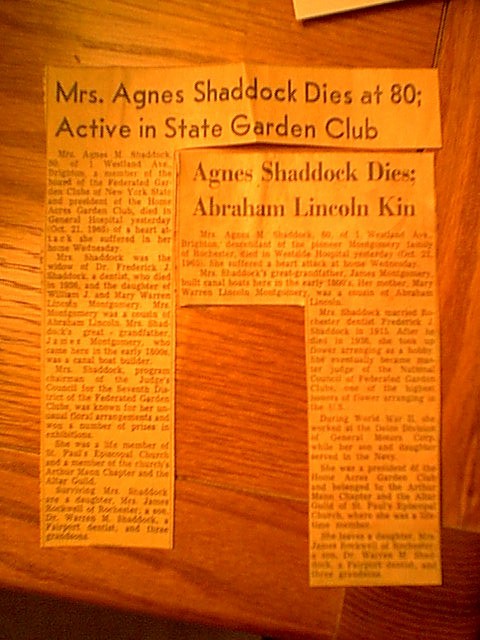 Mrs. Agnes M. Shaddock, 80, of 1 Westland Avenue, Brighton, a member of the Church of the
of New York State, and president of the __ Garden Club died in General Hospital yesterday October 21, 19__ of a heart attack she suffered in __ Wednesday.
Mrs. Shaddock was the wife of Dr. Frederick J. Shaddock, a dentist who died in 1936, and the daughter of William J. and Mary Warren Lincoln Montgomery. Mrs. Montgomery was niece of Abraham Lincoln. The Shaddocks great grandfather James Montomgery who _ in the _early was a __goat builder.

Mrs. Shaddock, program chairman of the Ju__ Council fo the __ Judge C__ for the __ win the F__ Garden Club, was known for her ___ flower arrangements and __ a number of prizes in exhibitions.

She was a life member of St. Paul's Episcopal Church and a member of the __ C__ __ Chapter and the Altar Guild.

Surviving Mrs. Shaddock is a daughter, Mrs. James Rockwell of Rochester, and son Dr. Warren M. Shaddock, a Fairport dentist, and three grandsons.
---
Shaddock